Aguayo Bail Bonds is your go to for your Nye County Bail Bonds services. We are there for you when you need us. Aguayo's Bondsman are mobile and will come to you 24 hours a day. To search for an inmate in the Nye County district, you can contact us today at 702-907-2245. Don't let your loved one sit in jail.
Nye County might not be as active as their neighboring city of Las Vegas. Nye County does have their fair share of nightlife and everything in between. The most important factor is that Aguayo's Nye County Bail Bonds service is amazing in this area.
With our mobile services, we come to you in your time of need. We know how stressful it can be to find the right Pahrump Bail Bonds agency. Also in Tonopah and Beatty.
If you are looking for the certain loved one within the Nye County district. Contact us today at 702-907-2245.
There is a few jails that are within Aguayo's Nye County Bail Bonds area. We have a great reputation with all law enforcement in the Nye County district. Therefore, your loved will be out with our rapid speed of handling all the important details of getting your loved one out of jail.
The main jails in Nye County are: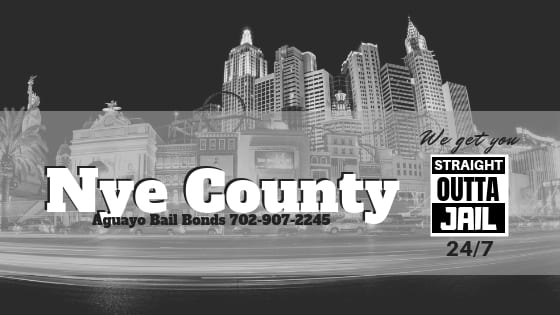 We understand the process of getting a loved one out of jail can be exhausting and stressful. Here are the three major steps on getting your loved one out of jail. Aguayo's Nye County Bail Bond service are always ready for questions or to assist with
searching for any inmate
.
3 Steps on how to bail someone out of jail
Mobile Services
We understand that every case is different but the time constraint came be overwhelming. Our Bondsman will come to you 24 hours a day as we provide mobile services.
Se Habla Espanol
Nuestros agentes de fianzas están disponibles las 24 horas del día y ofrecen servicios móviles. Trabajamos con las cárceles y juzgados en el condado de Clark & Nye. También ofrecemos servicios a nivel nacional.
Speedy Services
Paperwork can take a while to complete. We don't want your loved one sitting in jail to long. Our experienced Bondsman handle it all for a speedy recovery at any detention center.
Check the most common questions that are asked. If you have any additional questions, you can click the link below or call a Bondsman at 702-907-2245
How Does A Bail Bonds Work
Bail can be paid in cash, in the case that someone is unable to do this, they will contact a Bail Agent. Aguayo Bail Bonds acts as insurance between the court and the person in jail.
What Is Accepted As Collateral
There is many forms of Collateral. This can be any asset of a certain value, which could include a Home, Jewelry, or Vehicle.
If the defendant fails to appear in court at the time and date that was agreed upon, the Court or Bail Bond company will seize or collect the Collateral.
Do I Get My Money Back
If Cash has been paid for bail to the court in the full bail amount, that money will return when the defendant makes all required court appearances. 
If the defendant fails to appear in court, the Money paid will be forfeited and will not be returned. 
How Long Is A Bail Bond Good For
Generally, a Bond is good for the duration of the case.
If the defendant fails to appear, the bond is forfeited. It will be up to the Bondsman if they are willing to reinstate the bond. The defendant will have to eventually show up to their court appearances.
Therefore, Take a look at your contract to find out.
Who Is Liable For The Bail Bond
Family and Friends who co-signed for the Bail Bond will be fully responsible for Bond amount. 
If collateral has been placed, those items of collateral will seized. In the case a home has been used for collateral, that home will foreclosed and face a loss of property.